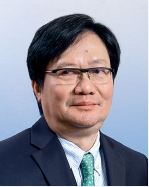 香港報業公會主席
甘煥騰先生獻辭
近年,網絡和社交平台已經成為政治宣傳必爭之地,大量沒有經過專業新聞工作者把關的資訊在網絡上流通,影響民衆對時事的看法。過去一年在香港以至國際社會發生的重大事件,如立法會議員宣誓風波引致人大釋法、英國公投脫歐及美國總統大選等,都可以看到網絡上似是而非訊息的影響。這一切都應促使大家重新關注傳媒的角色和新聞公信力的問題,尤其是新聞專業操守的重要性和報業的價值。出版報紙是個龐大的投資,報業經營者都知道,報章的公信力是最寶貴的資產,因為以假新聞催谷銷路是會被讀者唾棄的。
香港猶幸仍有不少新聞工作者堅守傳媒作為行政、立法、司法之外「第四權」的價值——監察社會、彰顯公義。儘管報業前景備受質疑,2016年度「香港最佳新聞獎」卻有來自12份報章的633篇報道參賽,足見不管環境艱辛,香港的新聞工作者依然不懈追求事實與真相,深信傳媒是推動社會向前邁進的力量。他們對社會的關注非常多元化,從不同角度剖析政經及社會事件,好讓市民能夠深入掌握這些事件的來龍去脈,從而發揮影響,引起共鳴。
我謹代表香港報業公會感謝社會各界支持,尤其是所有評審委員及各家贊助機構。衷心祝賀2016年度新聞獎的得獎者,感謝他們及所有新聞界同業對專業的貢獻和付出,為讀者提供不偏不倚的新聞報道。展望未來,香港報業公會定必繼續推動業界發展,提升業內的專業水準。
Keith Kam
Chairman
Message from Chairman of The Newspaper Society of Hong Kong
  In recent years, the internet and social media have become battlegrounds for political propaganda. Large amounts of information that have not been processed by professional gate-keepers are shaping public opinion. In Hong Kong and the international arena, the impact of specious information circulating on the web could be seen in the following events: Legislative Councillors' oath-taking row, which led to an interpretation of the Basic Law by the Standing Committee of the National People's Congress, the Brexit referendum and the US presidential election. All these should renew our attention to such issues as the role of the media, credibility of news, importance of professionalism and, above all, value of the newspaper industry. Publishing a newspaper is a huge investment. Those in the industry know that credibility is the most valuable asset of a newspaper, as one that tries to boost circulation with fake news is doomed to be deserted by readers.
  It is Hong Kong's fortune that many journalists here still hold firmly to the value of the press as the "fourth estate" that has a responsibility to act as a watchdog for social justice. Even though there are doubts over the outlook of the newspaper industry, the Hong Kong News Awards 2016 has attracted 633 entries from 12 newspapers. This shows that despite the difficult operating environment, there is no lack of journalists who are dedicated to pursuing the truth and convinced that the media is a vital force driving the society forward. The contents of the entries show that our journalists tackle their subjects from diverse perspectives. To enhance public understanding of social issues and create resonance with readers, they try to report and analyse political and social events from different angles.
  On behalf of The Newspaper Society of Hong Kong, I hereby express my sincere gratitude to different sectors of the community for their support, especially all the adjudicators and sponsoring organizations. We extend our hearty congratulations to all the winners of Hong Kong News Awards 2016. We thank them as well as everyone in the industry for their efforts to provide readers with even-handed coverage. Looking ahead, The Newspaper Society of Hong Kong will continue to promote the advancement of the industry by striving to raise professional standards.